2022 Flag Football sign-ups are here! It is open to all K-4th grade students, and it is a fundraiser for our Monticello Football Team. Check out the registration form for more information.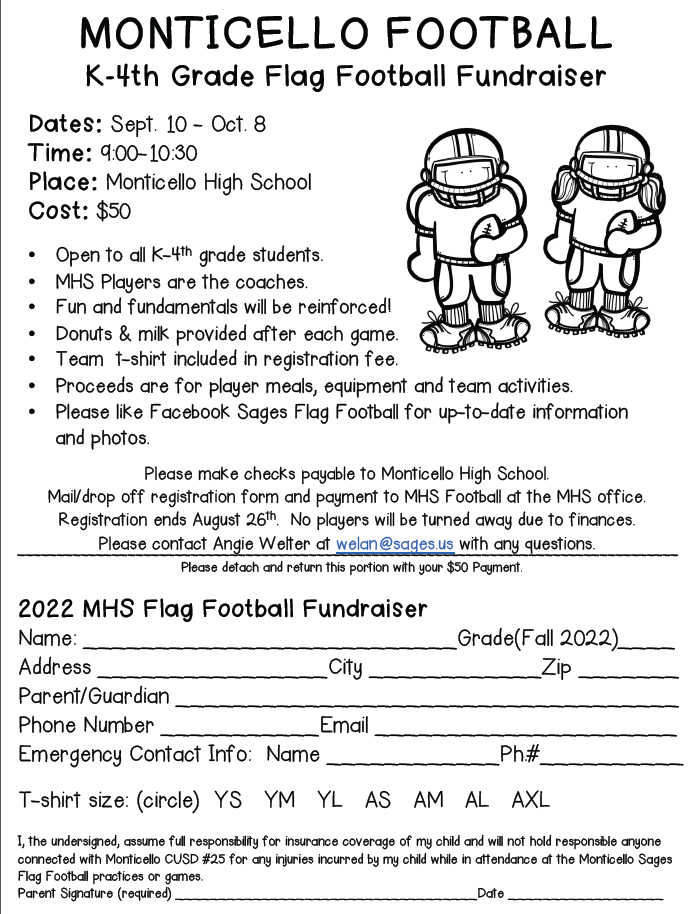 Monticello CUSD #25 will have Back the Blue Day on May 19th to support law enforcement and first responders and in honor of Officer Chris Oberheim. We ask that our students and staff support this day by wearing blue or Peacemaker Project 703 t-shirts.
https://www.peacemakerproject703.com/




Monticello Schools will have an E-Learning Day on Friday, Feb 18 due to questionable road conditions along with low temperatures. A decision on after school activities will be made by 10am. Stay safe and E-Learn!


Monticello Schools will be closed today due to potential flooding in low lying areas followed by an impending winter storm warning - all activities are canceled for today. Today is an emergency snow day. Stay safe!


Monticello Schools will be closed on Friday, Feb 4 for a SNOW DAY. A decision on after school activities will be made by 10AM and posted at
www.sages.us
.

Due to impending weather we will have E-Learning Days on Wed and Thur.  Information was sent to all parents via email this morning. A decision on school for Friday will be made on Thursday afternoon.  If we are unable to return on Friday we will use a traditional snow day.  There will be no COVID testing at Lincoln for the remainder of this week.




Early Dismissal on Friday (1/14) WH 100pm, HS 105pm, WASH 115pm, MMS 120pm, NO School on Monday (1/17) for MLK, No COVID Testing Monday at Lincoln School #GoSages

Our schools did see an increase in COVID cases among students and staff members last week compared to December.  We are hopeful that we can get through January and then see a downward COVID trend in Piatt County and the State of Illinois. We will continue to do whatever it takes to keep our schools open safety – our biggest challenge will come if we see a spike in employee cases that we cannot manage.  96% of our employees are vaxed, but Omicron is a contagious version of COVID and it breaking through the vax.  If needed we will make decisions on closures by classroom, grade level, or building instead of by the entire school district. The CDC/IDPH released new guidance this week detailing reduced five day quarantines that have been in effect this week.  We have been informed that the local health department will no longer be doing contact tracing and that the state health department is overwhelmed so we will once again do contact tracing starting on Monday, January 10 in the same way we did it in the first semester.  All close contacts will be contacted by the school with required exclusions.  We started our in-district testing program this week at Lincoln School. We are doing 20 tests per day, Mon-Tue-Wed-Thu11AM-2PM.  Enter the doors off of Wilson Street.