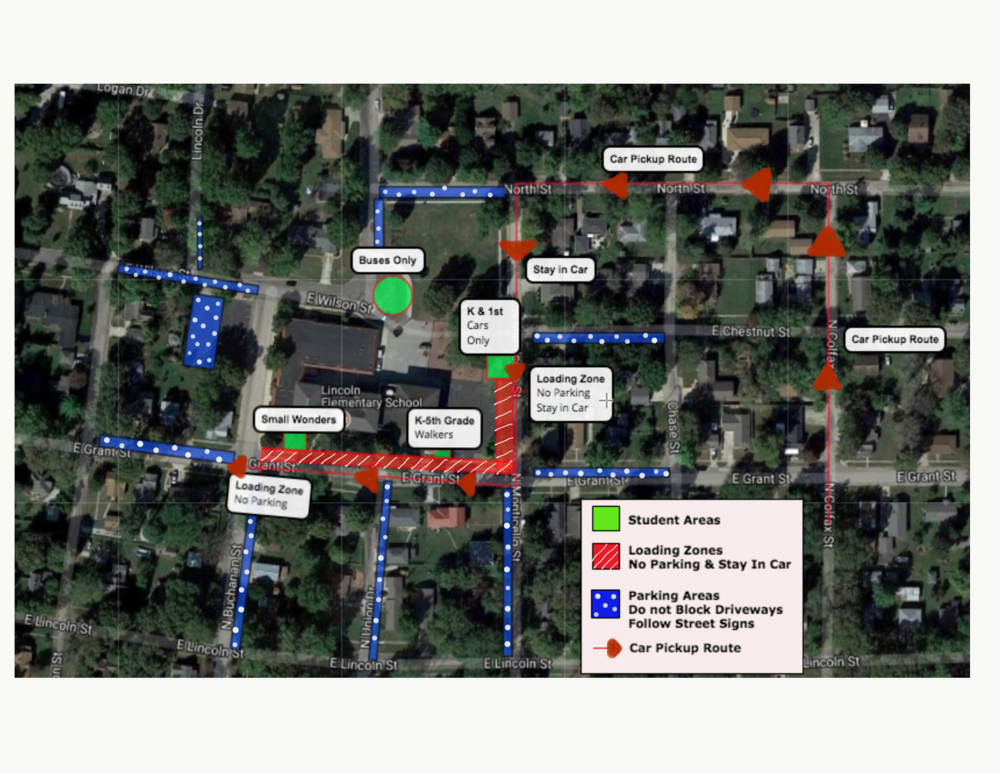 Student Material Pick Up
Mary Vogt
Wednesday, April 29, 2020
Families may pick up student materials on Friday, May 8 between 4:00 PM and 6:00 PM. Your child's items will be in a bag ready to give to you in a drive through style pick up. If your child has a library book or books that belong to his/her teacher please bring them with you to turn in when you pick up your child's items. The pick up location will be on Monticello St [behind Lincoln School by the playground]. We anticipate a line and ask that you follow the route used for after school pick up by going north on Union St, west on North St, and then south onto Monticello St. Remain in your vehicle and we will bring the items to you. Please do not leave your vehicle or walk up to the playground gates.
Please use the sign with your child's name on it that is used for after school pick up. If you do not have that sign then write your child's name and teacher's class abbreviation in large print on a piece of paper to place in your passenger window or front window. Here is how we ask you to write the teacher's class abbreviation:
| | |
| --- | --- |
| Teacher | Class Abbreviation |
| Mrs. Donovan | SWD |
| Mrs. Helms | SWH |
| Mrs. Bruhn | KB |
| Mrs. Fountain | KF |
| Mrs. Goebel | KGo |
| Mrs. Guarnieri | KGu |
| Mrs. Rooney | KR |
| Mrs. Welter | KW |
| Mrs. Coleman | 1Co |
| Mrs. Crouch | 1Cr |
| Mrs. Lamb | 1L |
| Mrs. Ross | 1R |
| Mrs. Shiley | 1Sh |
| Mrs. Strater | 1St |
For example, if John Smith is in Mrs. Bruhn's kindergarten class then the sign will look like this
If your child has medication at school it will be placed in a ziplock bag with his/her name on the outside and attached to the bag of student items. We will also include spring pictures with your student items. If yearbooks are delivered before May 8 they will also be included. If you are not able to pick up your child's items on Friday, May 8 between 4:00 PM and 6:00 PM please contact me at the Lincoln School Office, 217-762-8511 ext 1401, or email me at vogma@sages.us to make alternate arrangements.
Thank you for your continued support of your child and our school. Stay safe and healthy!
Mary Vogt